New transport interchange for Stockport
Posted: 07/01/2021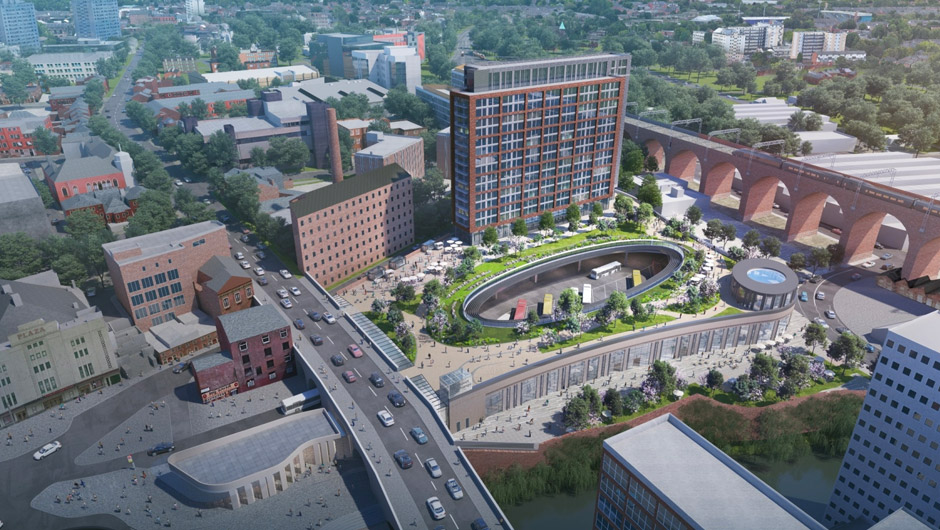 Plans to develop a modern transport interchange in Stockport town centre are taking shape following commencement of construction work on 30 November 2020. Located alongside the A6 and Mersey Square, the scheme forms a key part of the wider £1 billion regeneration of the town centre.
The first stage of the development will see Heaton Lane car park being turned into a temporary bus station to enable services to continue while the new interchange is being built. The temporary station will come into use from summer 2021 and will result in the temporary closure of the external section of the car park.
A temporary Travelshop has been opened close to Debenhams on Mersey Square to provide passengers with public transport information and advice, and additional on-street bus stops will enable continuation of a full bus service.
Alex Cropper, TfGM's head of operations, said: This is one of the most striking transport projects we've taken forward in a local town centre. It's an exciting time for Stockport and we're determined to build the community a modern transport hub it can be proud of for many years to come."
Cllr David Meller, cabinet member for economy and regeneration at Stockport Council, said: "Our priority is to build a transport network for Stockport that reduces the number of car journeys people make. With its rooftop park and new housing as part of the Mayoral Development Corporation, Stockport Interchange will be at the heart of delivering just that.
"From encouraging people to walk and cycle to use the new park, to those living nearby to use the bus, train and, in the future, Metrolink, Stockport Interchange will make sustainable transport an attractive and viable option for more people. It can't come soon enough."
Contractor Willmott Dixon was appointed to help develop first stage proposals for the multi-million-pound interchange development, which includes a striking rooftop park, and a bridge for pedestrians and cyclists.
A residential building off Daw Bank will see up to 200 apartments and associated car parking, offering further living space in the town centre.
The transport hub will be connected to the A6 by a lift, which will also open out onto the new, two-acre public park on the roof of the interchange building, next to the residential block. Accessible directly from the A6, the park will bring much-needed green space to the town centre.
Construction of the new interchange scheme is estimated to complete in 2023. The residential development is expected to open in 2024.
For more information on the project visit: tfgm.com/stockport-interchange and for information on Stockport's regeneration visit: https://www.stockportchangehere.org/
Back