News
Apartment development on site of former church
Posted: 16/12/2020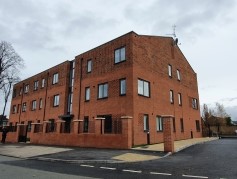 Wythenshawe Community Housing Group (WCHG) welcomed the first residents to its Woodhouse Lane Development, adding to its portfolio of 836 new homes with a total investment of £100 million pounds for the Wythenshawe area.
The scheme offers 18, two-bedroom apartments for affordable rent and has been built on the site of the former SS John Fisher and Thomas Moore Catholic Church by Rowlinson. The total cost of the scheme was £2.4 million supported with a total of £576,000 grant from Homes England.
Executive director of development Andrea Lowman said: "Unfortunately, the opening of Woodhouse Lane was delayed due to Covid19, but we are delighted to welcome the first residents and help bring some much-needed apartments for affordable rent to Wythenshawe.
"This is a significant development milestone for WCHG because the electric vehicle charging point will help reduce our carbon footprint so that we can play our part in helping to make Manchester a greener city. It also supports the National Housing Federations Homes at the Heart campaign – that everyone deserves a safe, secure, comfortable place to call home."
Back