20 years of turning pink for Tesco
Posted: 30/04/2021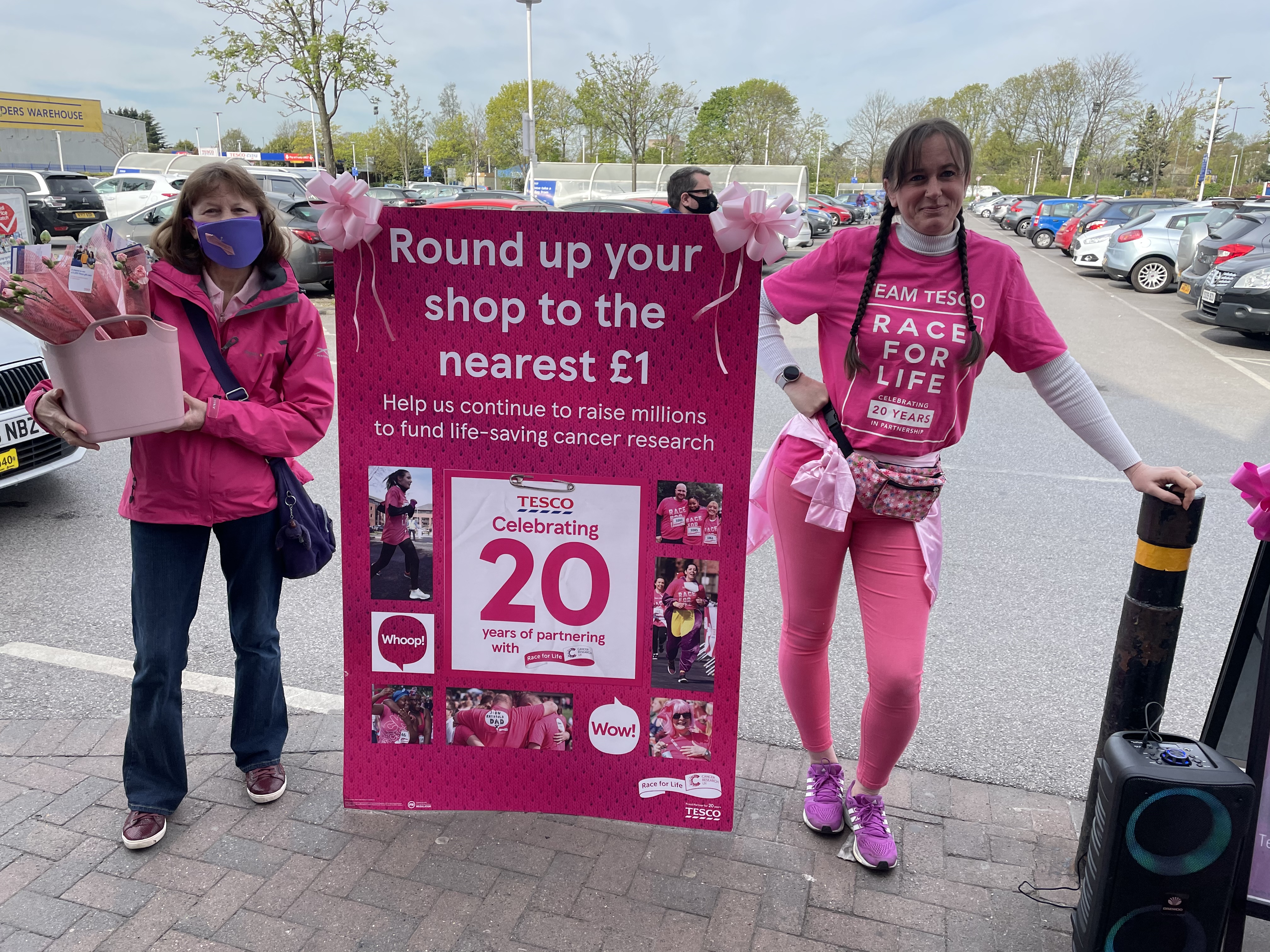 Tesco colleagues at the Baguley store on Altrincham road were in the pink to show their support for Cancer Research UK's Race for Life – celebrating a partnership of 20 years.
Tesco Turns Pink, the supermarket's national annual fundraiser, involves thousands of Tesco colleagues from across the UK helping to raise funds for life-saving research.
The Race for Life – a series of 3k, 5k, 10k, Pretty Muddy and Pretty Muddy Kids events – raises millions of pounds every year to help fund world-class research.
A range of fundraising activities to mark the 20th anniversary took place at Tesco Baguley on Altrincham Road, including bucket collections.
Those raising funds during April were able to complete their own Race for Life 5K in their nearest green space.
Tesco colleagues broadcast live on the official Race for Life Facebook and Instagram pages on the day and participants were invited to run, walk or jog 5K.
Kieran Jones, Baguley community champion said: "Race for Life is very close to our hearts and we are so proud of Tesco's long-standing support. Due to the ongoing restrictions we arranged more ways for customers to donate - by rounding up at self-service tills in store, donating their Clubcard vouchers or donating online.
"Tesco Baguley would like to say a huge thank you to all its customers who kindly donated to Tesco Turns Pink the final total raised over the weekend was an amazing £845.70.
"Over the last 20 years more than 360,000 Tesco colleagues and customers have taken part in Race for Life and every year they raise millions for Cancer Research UK."
COVID-19 has caused a devastating loss of research funding and the charity is predicting a £300 million drop in income over the next three years, which could jeopardise future medical breakthroughs.
Michelle Mitchell, Cancer Research UK's chief executive said: "We're incredibly grateful to Tesco for their support over the last 20 years. Though a difficult decision, postponing our Race for Life events until autumn gives us the best chance of ensuring they can go ahead with all necessary COVID-19 guidelines in place.
"To keep making progress for people affected by cancer, we still need help today. Every step we take towards beating cancer relies on our brilliant supporters."
Back