Downturn in crime and anti-social behaviour
Posted: 02/06/2021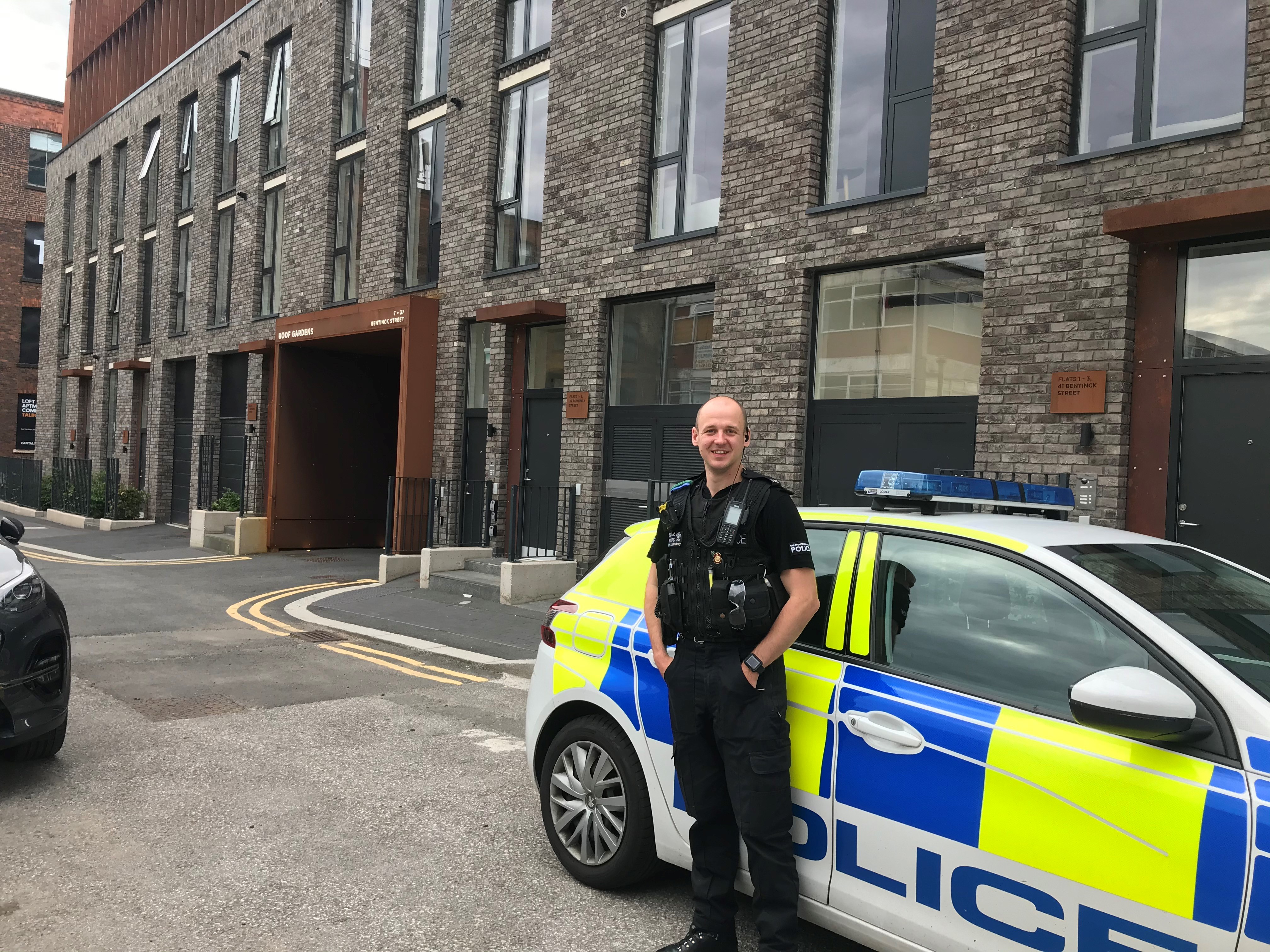 PC James Maskrey of GMP Wythenshawe is one of the officers from Police Now working alongside colleagues within local neighbourhood teams to tackle crime and anti-social behaviour in Greater Manchester.
Police Now's mission is to transform communities by recruiting, developing and inspiring diverse leaders in policing.
Incubated originally within the Metropolitan Police Service, Police Now works with 33 police forces in England and Wales – funded by participating police forces and the Home Office.
Police recorded crime statistics show that where Police Now officers have been posted into communities for the last 24-months – the initial two months spent in training – there have been 38,772 fewer incidents of anti-social behaviour compared to the same time period from October 2016 – equivalent to a 14 per cent drop.
Communities have also seen 14,301 fewer incidents of criminal damage and arson – a fall of 13 per cent. There were 12,460 fewer incidents of burglary – a fall of 16 per cent – and 31,732 fewer incidents of theft, equivalent to a 14 per cent fall.
PC Maskrey is active on the force's social media in a bid to build community engagement. Recent community policing includes stopping a group of youths throwing bricks at a block of flats housing vulnerable adults, by securing the abandoned building where they were getting the debris from.
He also rehoused a woman in her 90s who was living in a home without a proper kitchen, central heating, or a bed. At times she was heating her home by burning sticks she found on the ground.
PC Maskrey realised the urgency of the situation so spoke with a senior manager in the local housing group and secured a fully refurbished ground floor flat on the same street.
When he called to check on the woman in her new home, he was concerned when she didn't answer the door. It turned out she was, 'simply enjoying her best sleep in years'.
A former Royal Marine Reserve, PC Maskrey said: "A diverse workforce in policing is something that benefits the community. That means being diverse not only in the sense of race, sex, gender and religion but also life experience. Having served in the Royal Marine Reserves, I am now the Armed Forces Lead on the City of Manchester South Division."
Police Now consistently recruits more officers who are women or from black, Asian and minority ethnic backgrounds compared to any other entry route into policing.
Recruitment data shows that of those starting the Police Now Programmes in Greater Manchester in 2019 and 2020, 24 per cent identified as coming from a black, Asian and minority ethnic background.
Applications for the National Graduate Leadership Programme are now open: www.policenow.org.uk/how-to-apply-for-police.
Back