Landmark bridge links Wythenshawe with Manchester Airport
Posted: 13/07/2020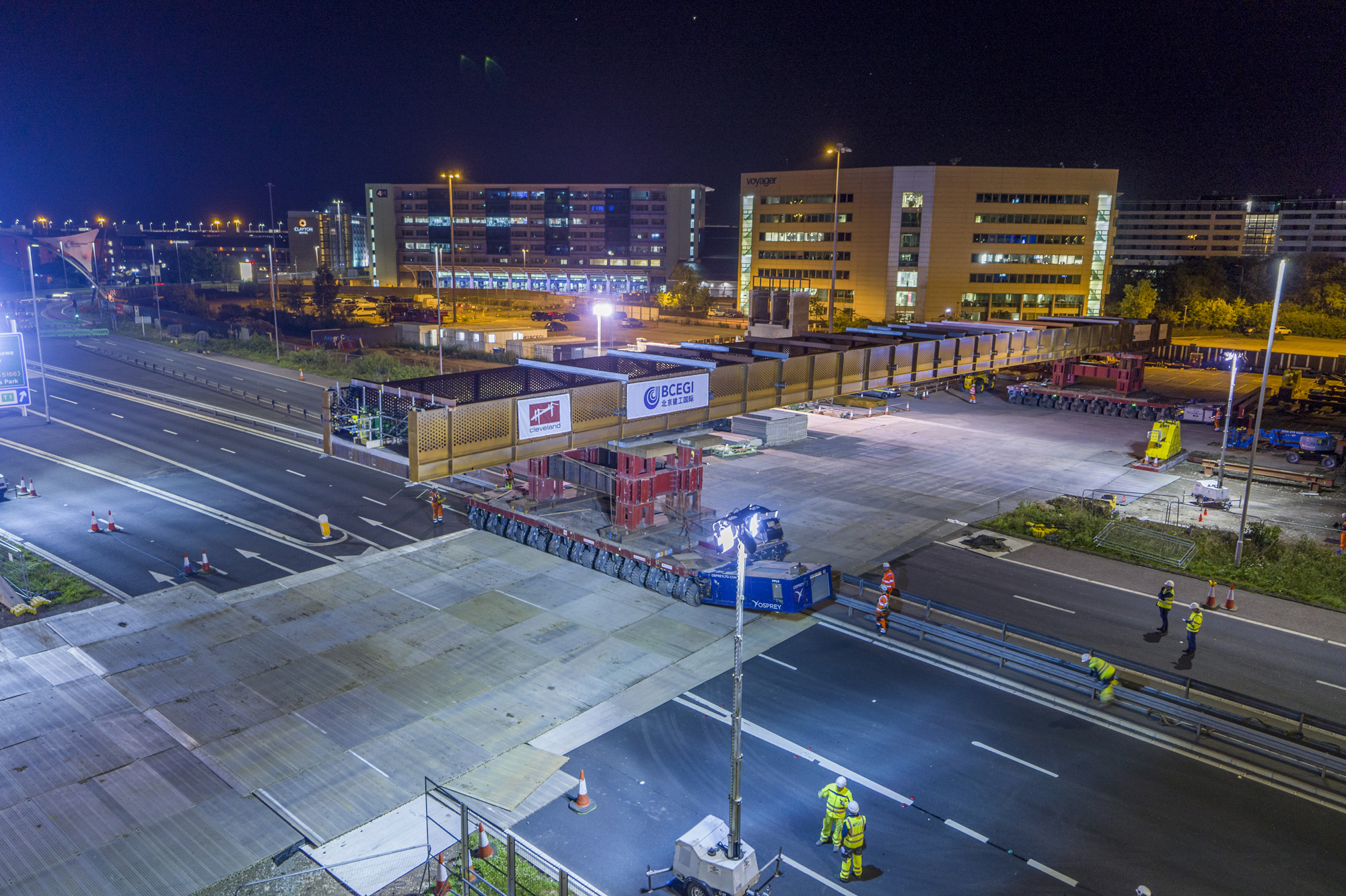 A 52-metre long pedestrian and cycle bridge linking Wythenshawe to the Manchester Airport campus was installed this weekend.
The 380-tonne structure spans the M56 spur airport approach road and its installation marks a major milestone for the Airport City Manchester project, which will deliver more than 15,000 jobs in the years to come.
Costing £6m, it was rolled into position overnight by a specialist team of eight people using two 800 tonne, 20 axle, self-propelled modular transporters.
The bridge – part-funded by Manchester City Council – will serve as a valuable link between the Woodhouse Park area of Wythenshawe and the airport site, benefiting the thousands of local people who work there.
It will also provide convenient access to the employment opportunities being created by Airport City Manchester, as well as enabling people to walk or cycle to the airport's train, tram and bus station.
The bridge was fabricated by Cleveland Bridges who, working closely with main contractor BCEGi, were also responsible for undertaking the complex 12-hour installation.
There are around 25,000 people working on the Manchester Airport site. It also has its Airport Academy training centre within its Ground Transport Interchange, which provides employment and training for local unemployed people.
Earlier in the year, a state-of-the-art AeroZone interactive classroom opened, which will be used by all schools in Woodhouse Park and the wider Wythenshawe area.
Mike Kane, MP for Wythenshawe and Sale East, said: "I am delighted to see this finally open at Airport City Manchester. A dedicated pedestrian and cycle bridge gives safe and convenient access to many types of public transport arriving to and departing from the airport's hub and crossing our region.
"I am determined to improve active travel for all and am delighted Airport City Manchester is providing the opportunity of new jobs and new connectivity for both businesses and residents alike."
The bridge is set to open to the public in November this year and when fully complete will blend into the neighbouring buildings with extensive landscaping and public realm, as well as providing feature ramps and passenger lifts to ensure it is accessible to all.
Brad Miller, chief operating officer at Manchester Airport, added: "Manchester Airport is proud of the role it plays in providing employment for so many local people, either directly or with the dozens of different companies that operate on our site.
"As excitement builds around the Airport City vision becoming a reality in the months ahead, this link will help give local people the best possible access to the opportunities being created."
Airport City Manchester has the capacity to deliver a diverse range of more than 15,000 jobs across a number of sectors. Already, the first phase of The Hut Group's £1billion business campus is underway and, upon completion the one million square feet global headquarters will support up to 10,000 jobs.
Work on Airport City Manchester's new £180 million hotel district is also gathering pace, where three new hotels and 1,500 new beds will be delivered by 2022.
The wider site also has the capacity to accommodate further development, including two 92,000 square feet Grade A office buildings and a multi-story staff car park, planning consent for which has been granted.
Designed by Manchester architects 5Plus and structurally designed by RoC Consulting, the 52.5m long and 6m wide bridge features more than 21,000 perforations across its length. It is constructed from Cor-Ten steel which develops a rust-like aesthetic after several years' exposure to weather and eliminates the need for painting.
Jonathan Haigh, managing director of MAG Property and Airport City Manchester development management leader, said: "It's a striking addition to the local landscape, with the architecture reflecting our ambition to create a real sense of place and signal a high quality of environment. The bridge connects the emerging hotel district south of the M56 spur road to the larger swathe of development-ready land to the north, which is earmarked primarily for office and ancillary uses.
"It also enables car parking to be decanted away from the heart of the scheme helping to enrich the amenity value of public open spaces."
Back